I have 3 (now not so) secret shames in life:
1) I liked the Spice Girls enough that in 6th grade I begged my mother buy me orange platform shoes that were so hard to walk in that I tripped in them on the playground and had to get stitches in my knee.
2) I almost exclusively read + listen to self help books and vampire romance novels. The last 3 books on my Audible account were Undead and Unwed, Dead Witch Walking, and You are a Badass.
3) I am OBSESSED with Reality TV

Here's a list of the last 5 shows I've binge watched:

– Nailed It (baking competition show meets Pinterest fails)
– Skin Wars (Body paint artists spray paint naked models as an art form)
– Rock of Love (Women with platinum extensions, fake tans, glitter, and a few silicone parts – yeahhhh some of them *might* be strippers – compete for 80's hair musician Brett Micheal's heart)
– Flavor of Love (Women who have a teeny bit more clothing on than the women on Rock of Love compete for Flavor Flave's heart. You remember that dude, right? He wore the giant clocks)
– Bachelor in Paradise (failed Bachelor contestants all compete for each other's hearts on an island in nothing but swimwear. It's reaaaaa-aaaally awful and I can't look away!)
Yepppp, it's true.
I know almost as much about Brett Michael's dating life as I do about the rotator cuff. As a self-proclaimed expert of reality TV, I can tell you there are 2 things that make for AMAZING reality TV
Desperation and ugly crying. 
You know what I'm talking about. The contestants on these shows, especially the ones who win, do NOT play it cool.
They will do almost anything to win. They compete in insane challenges. Proclaim their love after 1 date. Bare their souls in front of millions of people.
Heck, on Rock of Love, one chick popped an implant, went to the ER, and returned THE SAME DAY for the ceremony, so she could stay on the show.
They make giant freaking fools of themselves on TV for all of the world to see.
And if they win? Man, do they ugly cry.
Big, ugly, chocking sobs. All the eye liner running down their faces. It's a spectacle.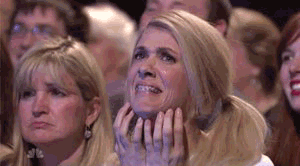 And on that note friends, I have exciting news. 
I am a finalist in the Next Pilates Anytime Instructor Competition.
If you've never heard of it, it's basically America's Next Top Model for Pilates teachers.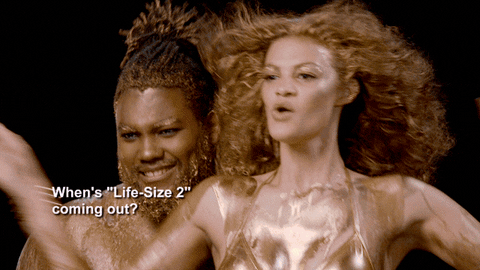 Pilates Anytime is this amazing website that hosts some of the most brilliant teachers in the industry for online classes. They're what I consider one of the leaders of the industry and some of my favorite teachers and biggest inspirations for the work I teach have been on the site.
And if I win, my classes would be on the site too!
This is the biggest thing that has ever happened to me in my professional career and while I'm inclined to play it cool, let me be clear, I have zero chill here and it's a big forking deal.
While I promise to keep my clothes on, I am desperate to win and if I do, no doubt I will be ugly crying my eyes out.
How desperate do you ask? So much, that I am volunteering myself to have a reality TV moment.
Every year at the PMA (a Pilates Industry conference) there is an Air Band competition. This year the competition is about voguing.
I am TERRIFIED of dancing and singing (even fake singing) in public. It's the one thing I refuse to do, but if I win, I pinky swear promise to get up there in a ridiculous outfit (perhaps break out my sparkly thong leotard?!?) and perform my heart out.
I haven't even told my friends who invited me to join them that this is my plan yet. You are the first to know.
So how can you help me win? Ultimately the winner is the person with the most votes, so two ways:
1. If you have an active Pilates Anytime account (you needed one prior to voting), please click this link and vote for me.
2. Whether or not you have an account, you can support me by inviting any Pilates teacher or enthusiast that you know who might have an account to vote for me by sharing the voting link, or if you prefer, sharing this blog post that you're reading right now!
Post it to social media, oooorrrr because we know personal touches matter, if it feels right text…email…call them…or hey write it in the sky 😉
See I told ya I was desperate 😉 
I'm going to lay it out all on the table and gush here. I want this. Like really really really want this. I can't do this without you and I would be SO appreciative of your help and support.
Here's the link one more time.
From the bottom of my heart thank you and I appreciate you.
Nikki
P.S. Stay tuned for next week when I share with you the story of the first video I ever filmed for YouTube (it was a mess!) and how it went viral.